Overview
Segments allow you to filter users for analytics and target employees for guides. If a visitor meets all rules of a segment, they will be included whether that segment is applied over data or used for targeting a guide. Detailed segmentation rules help you "slice and dice" data to uncover new insights.
The Segments tab can be found in the left-hand navigation menu. If the Segments tab is not visible, it may need to be enabled. To enable the Segments tab, contact your Pendo representative.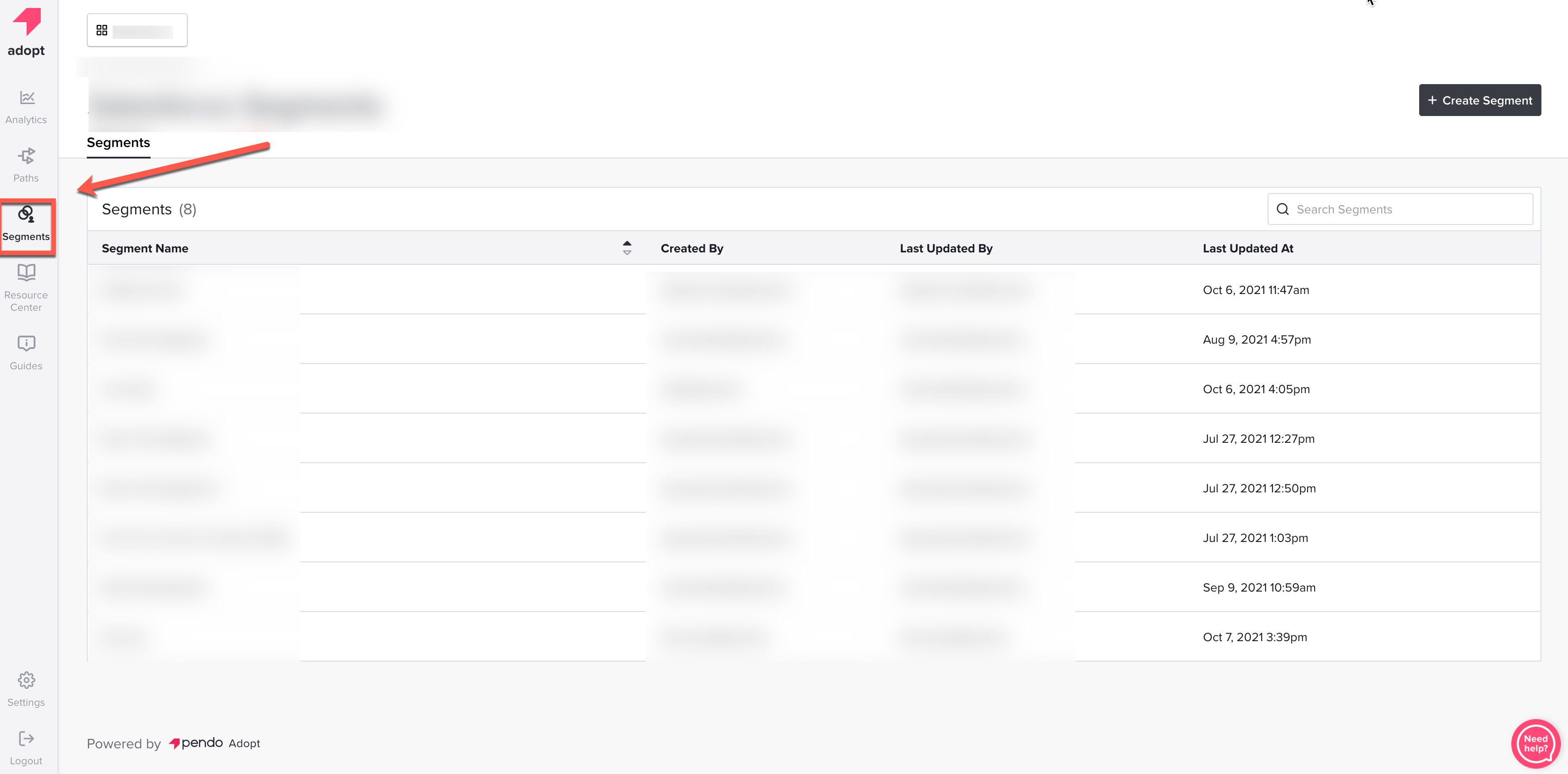 Segment Tab Overview
The Segment tab is broken into four columns: Segment Name, Created By, Last Updated By, and Last Updated At. Edit, delete, or search for your custom segments from this view. You can also create new custom segments via the "+ Create Segment" button in the top right hand corner.
1) Segment Name: Each custom segment has a name. This column shows all the custom segments you've created and displays their names.
2) Created By: Name of the user who created the custom segment.
3) Last Updated By: Name of the user who last modified the custom segment.
4) Last Updated At: Time when the custom segment was modified.
Create Segments With A CSV File
You can upload a .csv file with a list of visitors that you would like to include/exclude from the segment.
First, click the first dropdown and choose "

Visitor ID

"

Select "csv contains" or "csv does not contain" in the next dropdown.
Then, click "Upload CSV" to select your file.

File Format
For the file to upload correctly, it must be formatted with Visitor IDs in a single, line-delimited column. No other columns, punctuation, or special characters are supported in the file. For example, you would want a file that looks like the following:
Segment Rules
Segment rules utilize Product Usage data and Visitor metadata to dictate which users are targeted. Below are options for creating segmentation rules :
Product Usage (Feature, Page, or Guide usage and/or Poll Responses)
"Page 'Dashboard' Seen at least 10 times"
"Feature 'Search Bar' Clicked within last 30 days"
"Guide 'New User Tour' Seen"
"Poll 'Q1 NPS Survey' response less than or equal to 8"
Visitor Level Metadata
Visitor ID
First Visit
Last Visit
Most Recent Browser Name
Most Recent Operating System
Additional metadata values (e.g. username, role, title, location, etc).
Segment New Users
Utilize the provided field "First Visit" to segment new visitors to your application. "First Visit" is the date and time the application first received an event for the Visitor. If you want new users to see a welcome guide or tour, you can structure a rule like the following:
First Visit within last 1 Day
First Visit since "Date"
First Visit since "Date"
In the first dropdown, scroll until you find "First Visit". Then in the second dropdown, select "Date". Finally, select the date.

First Visit within last 1 Day
Edit Segment
To edit a segment from the Segments tab, hover over the segment and then click the pencil icon

to the right. This will allow you to add or edit your segment rules.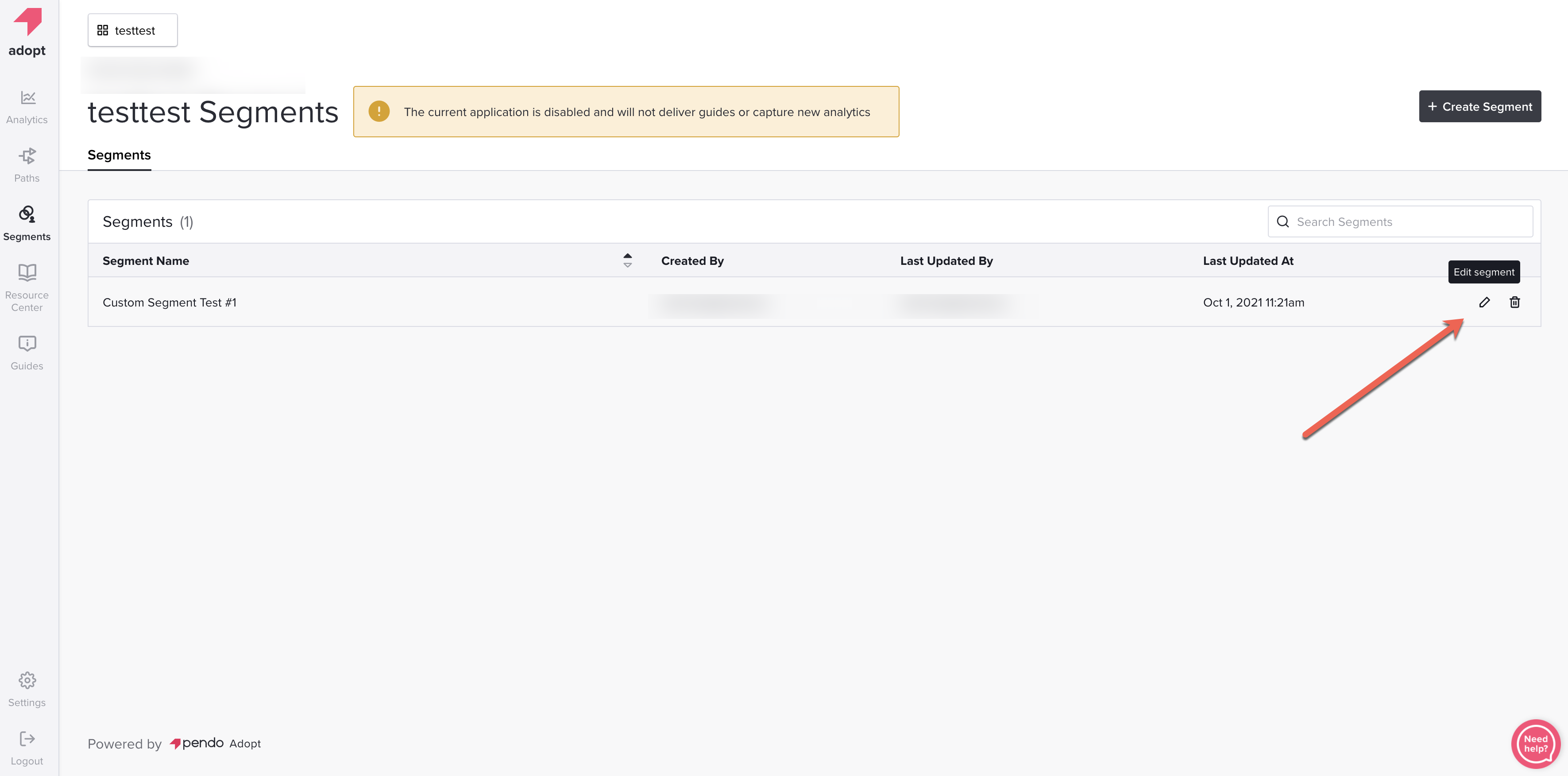 Delete Segment
Hover over the segment and click the trash can icon to delete a segment from the Segments tab.

Search Through Segments
Use the search bar located underneath the "+ Create Segment" button to search through existing custom segments.