Overview
A visitor is a single individual use. This is different than an Account, which is a collection of multiple visitors. You can access the Visitors tab via the Analytics tab.
Visitors Tab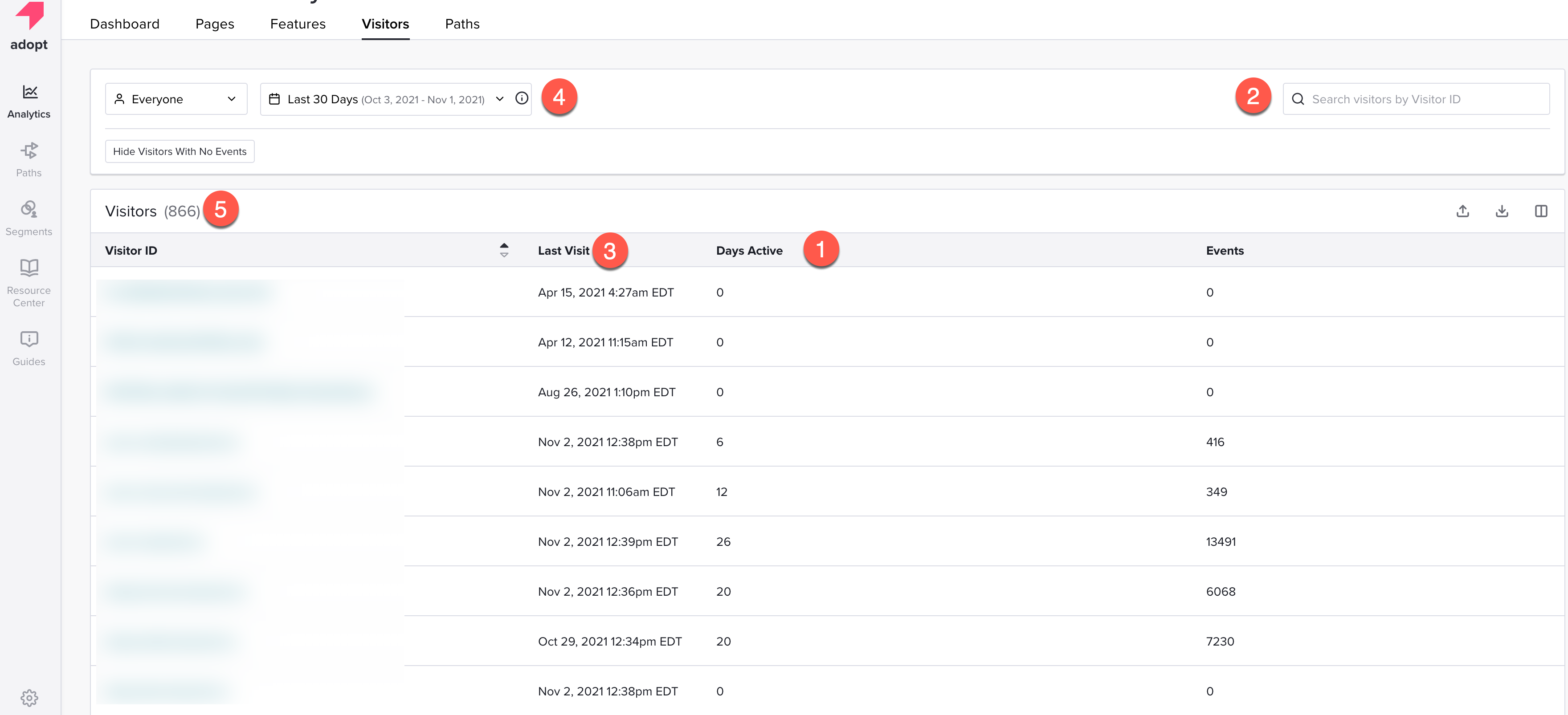 Number of Days Active: this is the total number of days the visitor was active in the selected date range. A visitor is considered active when we capture at least one event in a 24 hour period.

Search: looking for a specific visitor? You can search for them in the top right corner.

Last Visit: time stamp of the most recent page load or click on your site from that visitor, regardless of if that page load or click has been tagged as an activity on your site or not.

Frequency: broken into range ranges - these filters show you how often your app is used. The goal here is to increase the number of daily and weekly users.

Number of Visitors: total number of unique active visitors within the selected segment and date range specified at the top of the page.
Visitor Details Overview
You can view details on an individual user in your Adopt subscription by navigating to Analytics > Visitors and clicking on a user's Visitor ID.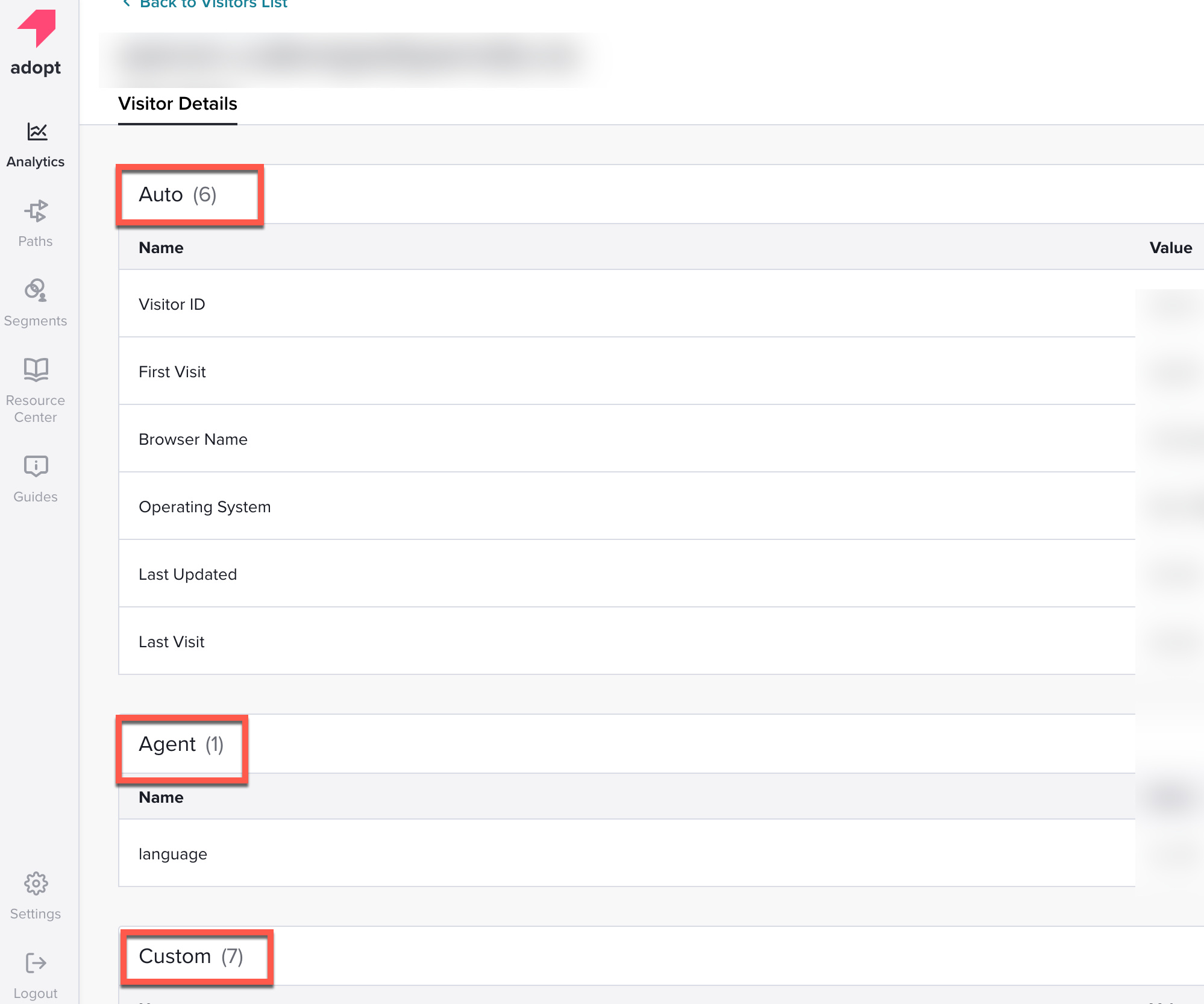 Visitor Details Breakdown
Visitor details correspond to the metadata sent in with the last recorded event. Although metadata can change over time, Adopt only shows the most recently received values, regardless of date or app filters applied.
Auto
This metadata automatically updates when a user visits a page in your application and passes the fields to Pendo. These fields are standard to each user. Auto is the default metadata we create (cannot be modified).
Agent
Any metadata values that are being passed to Pendo via the agent. Metadata from Agent can be defined in the snippet that customer uses to install Pendo.
Custom
Includes custom metadata values. Custom metadata is what the user can input (or request to customize). The sections shows the custom metadata field you've added so far. If you wanted to modify the value for a particular visitor, you can do so in this section.
Additional Options
Edit Columns
You can adjust the columns on the Visitors page by clicking the
icon.
Each column is based on a visitor metadata value so you can customize your view as you desire.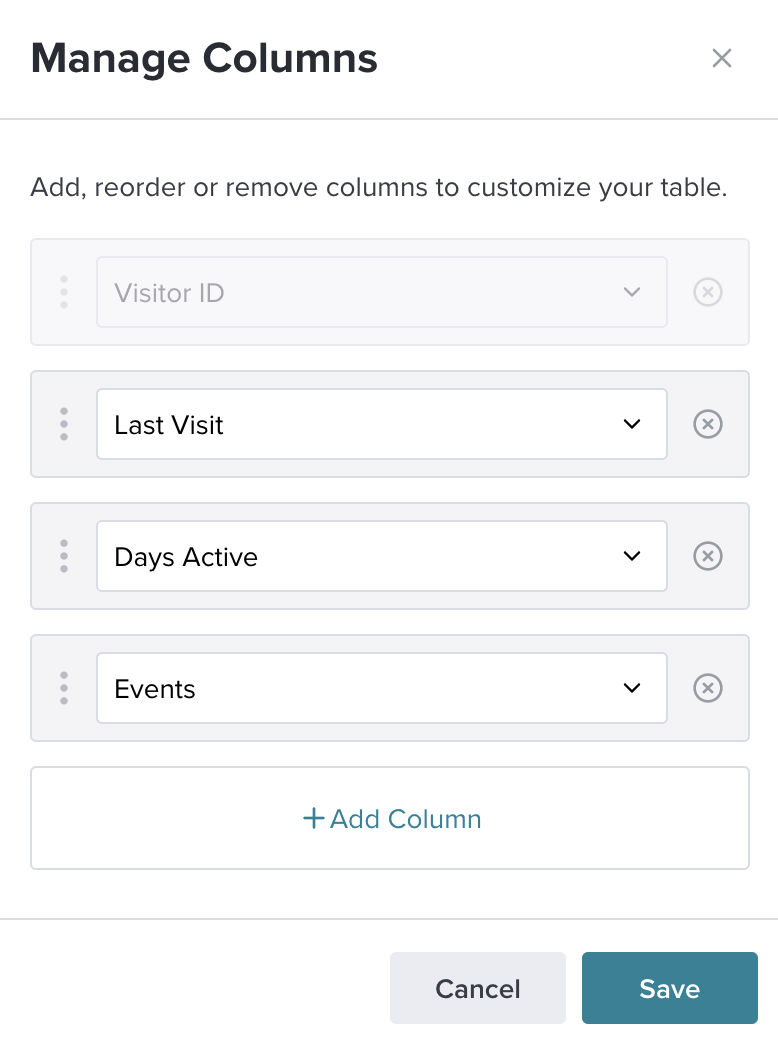 Download As CSV
If you need to download a particular set of users, choose this option for a quick download option.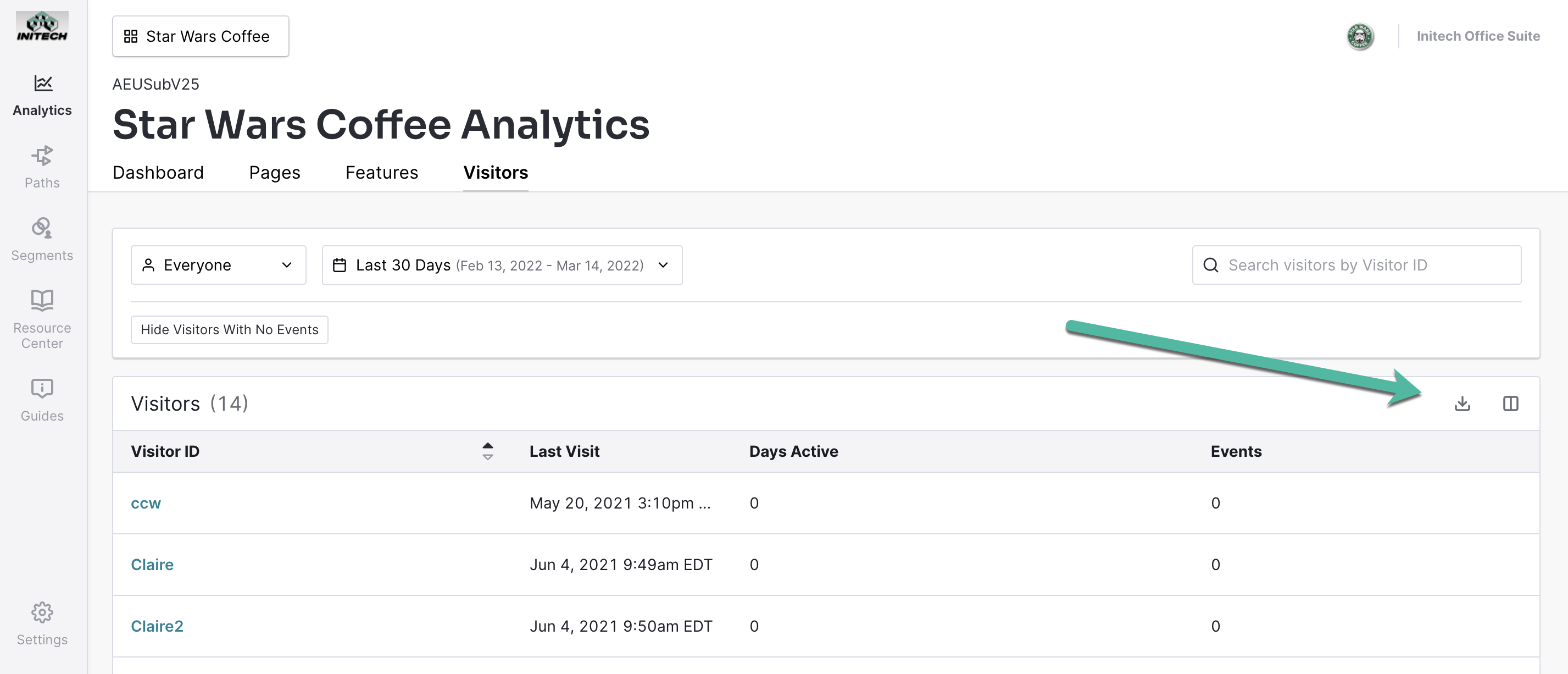 Hide Visitors With No Events
Enable this filter by clicking it once. Click it once more to turn the filter off. The "Hide Visitors With No Events" filter will allow you to only see visitors who have events captured. Track Events are event type information programmatically sent to Pendo. These events can be server side for things like an API being called, an email being sent to a user, or other server events.