Overview
The Guide Elements table shows the usage of building block elements in a guide. The table includes the name of the element, type, button action, number of clicks, and percentage of clicks per step. For a multi-step guide, toggle if elements are grouped by step or shown in a single list view.

Deleted elements are elements with usage data but are not present in the current version of the guide. They can be toggled on and off to see the complete history of guide element usage.
The deleted element may display as Unknown if the element name cannot be identified.
Supported Elements
Close Button
Button Building Blocks and all associated actions
Links in Markdown Text
Button Actions - Table Values

Next Step - Advances to next step in a multi-step guide.

Dismiss Guide - Dismisses or closes a specific guide.

Submit All Polls + Advance Guide - Submit all poll responses to Guide Metrics and advance guide to next linear step or dismiss if there is not another step.

URL Link - External link with URL.

Launch Guide - Dismisses current guide and launches targeted guide.

Previous Step - Previous linear step in a multi-step guide.

Snooze Guide - Dismiss guide and reactivate it after set time duration has passed.

Go To Step - Advances to specified guide step in same guide.
View list of Visitors who clicked on an element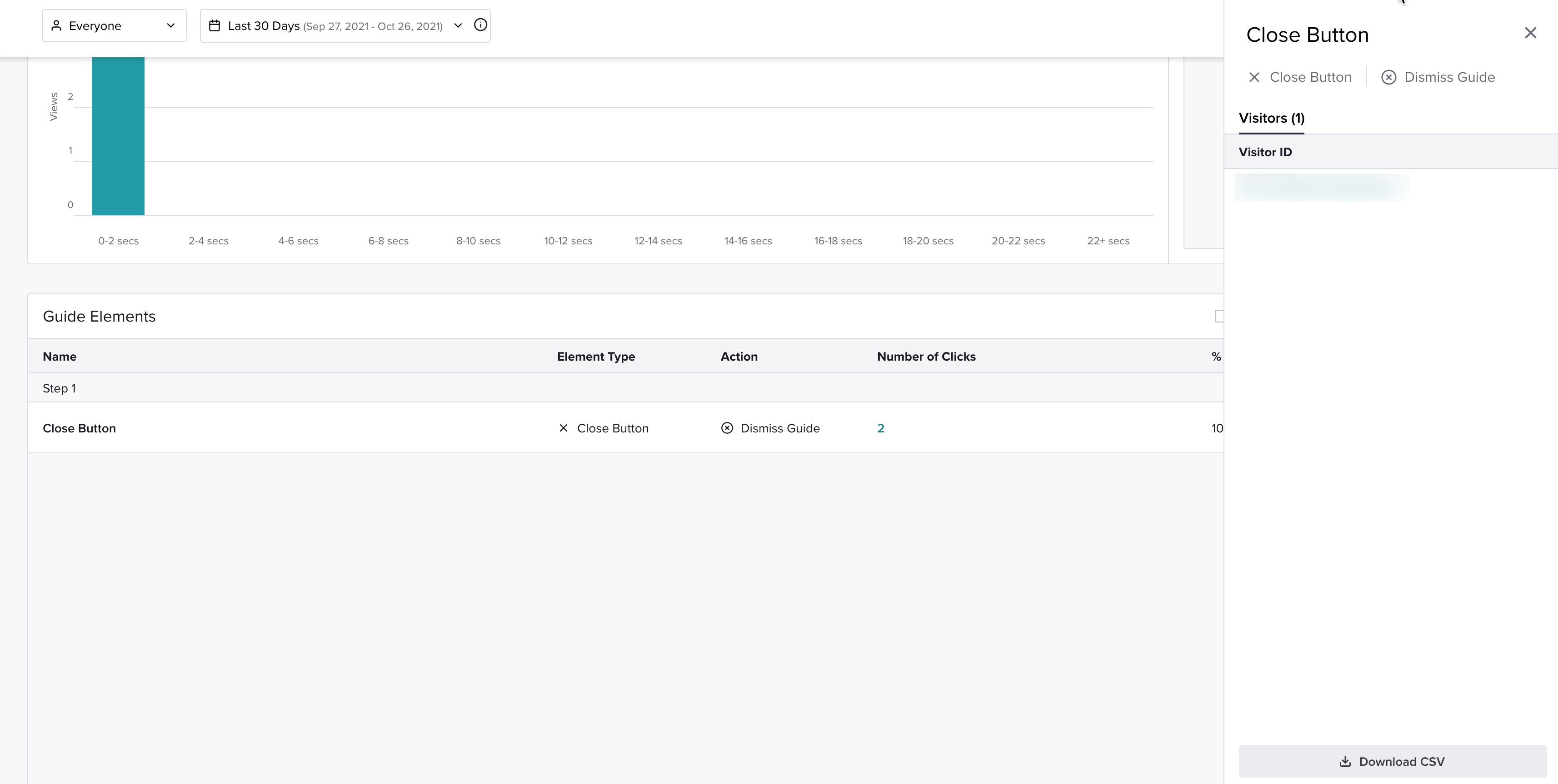 Click on the number of clicks in the table to open a slide out that lists the visitors who clicked that guide element. Export a CSV to create a Segment of those users.
Guide Activity

The Guide Activity table shows all guide events in chronological order grouped by visitor or in a continuous list. In the By Visitor view, expand a visitor's usage to all of their events in chronological order with the most recent status at the top.
The default columns include the Visitor ID, number of views, Time on Guide, Status, and Date and Time. Multi-step guides also include progress through each guide step and time on step. The table can be customized to include any of the product usage data or metadata available in a visitor report to provide additional context for user behavior. Click on a visitor in the table to open their visitor details page in a new tab.
Guide Status is the outcome of a user seeing a Guide. The status indicates if the user closed the Guide, if they interacted with any elements, or ignored it entirely.
Guide Status List
Action Taken - The visitor interacted with the guide and advanced it with buttons or other behavior that would cause the guide to advance. Submit Poll button actions result in this status.

Advanced - This status only occurs in multi-step guides when a visitor advances off of step 1. If the guide is activated automatically it may be shown to the visitor again until they dismiss or complete the walkthrough. If the visitor navigates away from the guide without closing it and then returns to the last seen step in the guide, it will display automatically for up to ten (10) minutes from the last advance event. After 10 minutes the guide will reset and show the first step.

Button Clicked - Visitor clicked on a Button created with a building block.

Closed - Visitor closed the guide with a dismiss action. An automatic guide will not be shown to the visitor again.

Completed - This status only occurs in multi-step guides when a visitor has fully progressed through all of the steps without dismissing the guide.

Displayed - Guide was presented to the visitor and they did not take any action to advance or dismiss the guide. If the guide is set to display automatically, it will be presented to them again.

Snoozed - Guide was temporarily dismissed by Snooze button action.
Manage Columns
Click on the book icon

in the top right hand corner. This will allow you to add, reorder or remove columns to customize your table.